19 Mar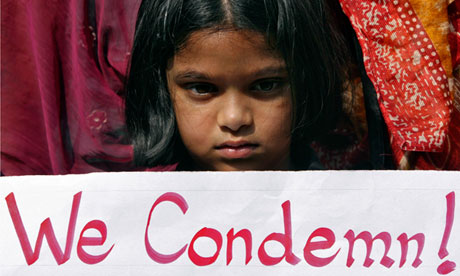 It's about time for international tourists who visit India for various reasons to re-evaluate their plans about visiting our country as our country has become a nation of rape and sexual assaults against women. With various party rulers and law regulating authorities of our country not taking this issue seriously, this social epidemic is not going to end anytime soon. It seems like the evil society of our country is not at all bothered by the rules and regulations framed by our constitution or we can say that our rulers for some reason are not able to convey the message of crime against women to the common people of our country. Is it so hard to make people of our country understand that women are not objects and they need to be treated with respect and honor?
Another rape incident took place at a forest area in Datia, a city 65km from Gwalior. This time a 39 year old Swiss woman was the victim, who along with her 29 year old companion were cycling from Gwalior to Agra and decided to camp in the forest for the night. The couple had apparently lost track and decided to halt for the night by the side of a village stream. The couple were the adventure tourists from Switzerland who had landed in Mumbai a fortnight ago. Around 10 PM after they finished the dinner, a group of men attacked them and overpowered the male companion before assaulting and gang-raping 39 year old woman. The couple were also robbed of their valuables. At around 11pm the woman was discovered by two motorcyclists passing by who thankfully took the couple to the Civil Lines police station. The trouble for the couple was not yet over as no one in the police station knew English; finally an English professor from a local college was woken up in the middle of the night to play a translator in filing an FIR. The lady was taken to the district hospital for medical examination and treatment where no lady doctor was present, the tourist were then taken to Kamalraje Hospital in Gwalior where tests confirmed rape. Ironically the district hospital where no lady doctor was present also happened to be the constituency of the Madhya Pradesh health minister Narottam Mishra, just shows how much these ministers are concerned about their own city from where they get elected, one wonders what they can do for the state or country?
Now that the FIR is logged, the great Indian police have launched their hunt for the criminals, along with this blame game has also started to justify this shameful incident. Madhya Pradesh Home Minister Uma Shankar Gupta shamelessly didn't even hesitate in saying that foreign tourists were not following rules about informing local police about their movements. He said "What happened is unfortunate for our nation. When foreign tourists come, they should inform the SP (Superintendent of Police) about their plans. This is the system but it is not being followed".  The political parties instead of sitting together and framing strict measures to protect women is simply blaming each other and asking for resignations. How long this age old practice of political glorification of such sensitive issues going to continue?
This rape incident is yet another show case of how law of the land is broken by evil people at their will. The shameful act has become national news and Swiss government has asked for a swift investigation. Will the victim get a quick justice? Still remains a question as our slow judicial system will take its own sweet time to prove and punish the culprits. Even bigger question to be asked, will the government of India or the state can assure the people of our country that such incident will not happen again. It's quite visible that our ministers are still not firm on protecting women in our country. Why even after the gangrape of Nirbhaya in Delhi which became an international news, we see an increase in rape cases? If government of our country can make the whole country understand the importance of digitization of cable TV then why they are finding it so hard to convey the message of crime against women?  Clearly shows lack of commitment from our Indian government to take this issue by horns and solve it for forever.
Loading ...